What is HEI?
The Health Education Initiative (HEI) is a public health education program to respond to the alarming rate of child injuries and preventable child deaths due to insufficient knowledge of pediatric first aid skills of teachers and caregivers in Vietnam. This is the collaboration between VANGO Network, Project Vietnam Foundation (PVNF) and the American Academy of Pediatrics (AAP).
Our Mission:
Did you know that most child injuries are preventable?
Did you know that preventable injuries kill 2000 children every day worldwide?
Did you know that effective first aid procedures can save a child's life?
Did you know that child care providers in many schools and child care centers in Vietnam are not equipped properly with first aid skills?
And,
Did you know that 20 children die from injuries everyday in Vietnam?
By providing local caregivers and teachers with high quality health education and access to updated CPR and first aid techniques for children, HEI's mission is to create and facilitate a community-based child care network that ensures a safer environment for children especially in less advantaged areas.
What We Do:
HEI focuses on public health education with its PedFACTs trainings which provides caregivers and teachers with solid foundation to evaluate and perform first aid for children.
PedFACTs is a pediatric first aid training program for caregivers and teachers, developed by the American Academy of Pediatrics (AAP). The program was introduced  in the US in 2005 and is required for teachers and care providers at child care centers and schools.  AAP has granted Vietnamese copyrights of the PedFACTs program to Project Vietnam Foundation, which is referred to as PedFACTs Vietnam.
PedFACTs Vietnam introduces standardized pediatric first aid trainings for teachers and child care providers in Vietnam. This initiative leads to higher awareness of injury prevention and, thus a safer environment for children at schools or child care centers in the country where access to emergency care is poor and limited.
Our Goals (through 2016):
By 2016, HEI PedFACTS-Vietnam plans to provide trainings for 100 PedFACTs instructors who will provide trainings for over 2000 child care providers in the country.
The increase in the number of skilled care providers  will provide a safer environment for at least 30,000 children in the country.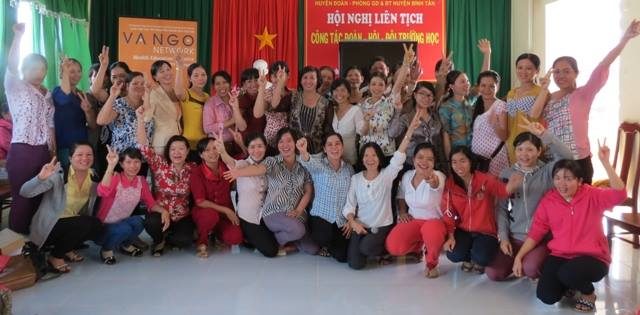 PedFACTS-Vietnam Trainings
PedFACTs – Vietnam provides 2 types of pediatric first aid and CPR trainings:
1. PedFACTs trainings for teachers and parents:
After completing this course, participants will be able to perform appropriate first aid procedures for specific types of illness or injuries for children. Participants will be able to identify the need and to perform CPR for children of different ages.
PedFACTs trainings for parents is 3.5 hours and teachers 8 hours. We equip parents and teachers with the education and confidence that they need to effectively care for children.
Successful participants will receive a certificate of completion at the end of the course.
2. PedFACTs training for instructors:
This course is designed for principals of preschools, school nurses and staff of district departments of training and education to become local PedFACTs instructors and to provide PedFACTs trainings for other local teachers and caregivers.
It is a series of four-day training which is divided into 2 two-day sessions.
Successful participants will be certified by AAP and VANGO Network at the end of the course.
HEi aims to train 30 PedFACTs instructors within 6 months who will provide PedFACTs trainings to at least 200 local care providers.
From 2015 to 2016, HEI plans to certify 100 instructors. Together with PedFACTs Vietnam team, they  will provide PedFACTs trainings to at least  2000 local care providers.
Past PedFACTs – Vietnam Courses:
Founded in 2010, through 2014 we have provided 35 series of HEI trainings for over 1,300 teachers and caregivers.
From 2010 through 2017, through HEI Program, we have trained 175 Instrustors, 3,246 child caregivers, benefited 800,000+ children (selected instructor/caregiver must provide care to 40+ children).
PedFACTS-Vietnam Training Team:
The PedFACTs-Vietnam training team consists of medical professionals and childhood education specialists with experience in providing health and safety training courses in the US and other countries. They are all certified PedFACTS instructors:
Trần Kim Ánh (Ms.), Co-Founder and member of the Board of Directors of Pacific Links Foundation, is currently the Early Childhood Education Consultant for Mầm Non Lá Xanh/GreenLeaf Learning Center in HCMC. Previously, Ánh was a Program Specialist for Asian Services at BANANAS Resource Center in Oakland, California. With her extensive experience in Early Childhood Care and Education (ECCE) training in the US, she spearheads the ECCE training programs conducted by the Pacific Links Foundation for early childhood educators throughout Vietnam. These training programs are organized in collaboration with provincial education offices and pedagogical colleges. Since 2010, Ánh has participated with the VA-NGO Network to provide HEI PedFACTS Training from the American Academy of Pediatrics (AAP) to teachers in Vietnam. She authored "Nurturing Healthy Children in the First 5 Years: A Parenting Guide" for Vietnamese American parents, published by ICAN in May 2007. She is a Co-Founder of Vietnam Health, Education & Literature Projects (VNHELP) and served on its Board of Directors from 1991 to 2001. Ánh also served on the Board of Directors of Asian Health Services in California.
Quynh Kieu (Ms.), MD, Chairperson, President/Chair/Founder of Project Vietnam Foundation, is a pediatrician and lifelong advocate for children. She has held various leadership positions at the Orange County Medical Association, California Medical Association, and the American Academy of Pediatrics (AAP). Quynh co-founded Project Vietnam Foundation (PVNF) in 1996 as an international project of the AAP. It has brought thousands of volunteers through medical mission trips annually to serve rural areas, providing surgery for children with facial deformities, eye defects and primary care services at remote clinics and schools. The project also provides medical training for healthcare personnel. To date, PVNF has worked in 32 provinces. The PVNF flagship project is the Newborn Care Initiative which has updated national guidelines for Newborn Health and brought Neonatal Resuscitation Training to 85% of the provinces in Vietnam. PVNF has received copyrights from the AAP for multiple training programs in neonatal care, Disaster management, and the Pediatric First Aid for caregivers. PVNF is the leading organization for the Health Education Initiative (HEI) of the VA-NGO Network.
Ms. Dang Ngoc Thanh Thao oversees the network of school health services  at the Center for School Health Services of Thua Thien Hue Province. She has 20 years of experience in the education field. She is concerned about how to improve the knowledge and skills for teachers and care providers about first aid for children. Recently, she received her certificate in pediatric first aid training from PedFACTs Vietnam held at the Center for School Cooperation and Humanity Education in Huế.
Ms. Truong Thi Thu Cuc is a lecturer at the 115 Hospital operated by Pham Ngoc Thach Medical University. She has 30 years of experience teaching in the medical field. In November 2011, she completed the PedFACTs-Vietnam training for instructors held at Children's Hospital 2 in Ho Chi Minh City.  From March 2011, she has been a trainer for PedFACTs Vietnam trainings for teachers and care providers.
Mr. Truong Hoai Phong is a physician of the Medical Center of An Binh commune, Di An District, Binh Duong Province. Phong has 7 years of experience in the medical field. He cares about improving skills and knowledge for pediatric first aid in primary care centers and in the community. In November 2011, he successfully completed the PedFACTs Vietnam training for instructors held at Children's Hospital 2. In March 2011, he started to  participate in providing PedFACTs training for teachers and care providers.
HEI Training Course Testimonials:
Hoang Thi Ngoc Linh, teacher of Phong Dien Preschool, Hue Province, 8 years of experience in teaching, shares: "Accidents are always waiting for our kids. We are trying to protect them from sudden accidents, but nothing is predictable. Also, it's really difficult to keep calm when seeing our kids in accidents. However, I feel very confident when doing first aids to our kids after joining this training. I would like to say thank you to Pacific Links Foundation and VANGO Network instructor for their passion and willingness in teaching and sharing during the training."
Bui Quang Hai, caregiver of Mang Thit Elementary School, Vinh Long Province. He has 2 years of experience in healthcare and shared: "Being a caregiver brings me many chances to attend many courses on first aid and CPR. However, this is a very unique training course ever since I can practice CPR and first aids skills right after learning theory. My surprise does not stop there. The most important thing is that we practice on electronic manikins. This helps us know if we do right or wrong."
Le Van Tim, 20 years of experience on taking care children, Huong Tra Preschool, Hue Province, shared: "Although time for the training is really short, we can learn many experiences from the instructors. Thanks to the practical scenarios and manikin, we can memorize CPR and first aid steps easily."
*** Some Youtube links about VA NGO Network and HEI Book launch event:
VA NGO Network – HEI Book Launch – June 30, 2014 – Tuoi Tre TV
VA NGO Network – HEI Book Launch – June 30, 2014 – HTV