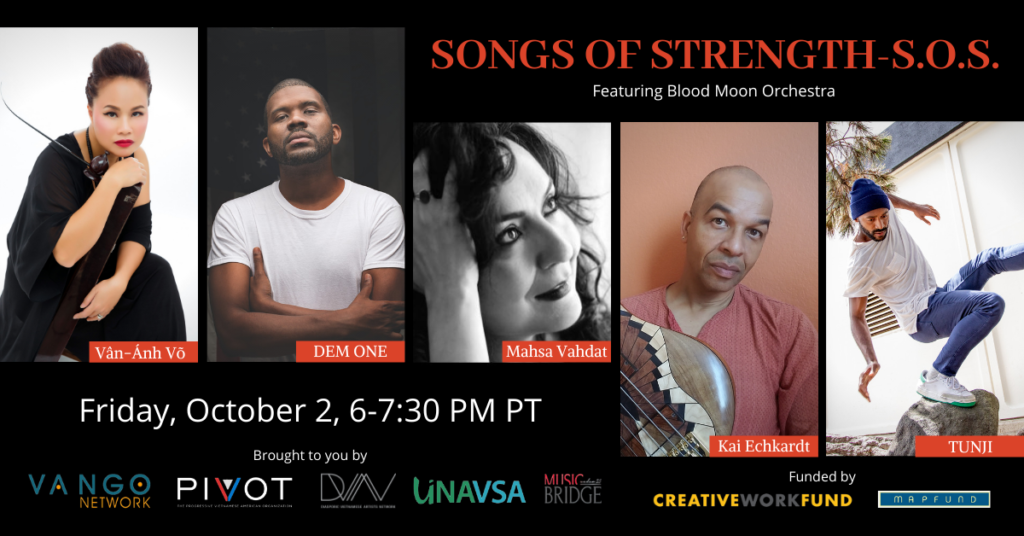 Presented by the Vietnamese American Non-Governmental Organization (VANGO) Network in partnership with PIVOT, DVAN, and UNAVSA, "Songs of Strength-S.O.S." is a series of online workshops with Vân-Ánh Võ and the Blood Moon Orchestra featuring dialogues with a variety of artists and musicians of diverse cultural, social, and immigrant perspectives and backgrounds.
Guest artists: DEM ONE, Mahsa Vahdat, Kai Eckhardt, and TUNJI.
This program is funded by the VANGO Network, MAP FUND, and Creative Work Fund, a Program of the Walter & Elise Haas Fund, supported by a generous grant from the William and Flora Hewlett Foundation.
About the guests:
Blood Moon Orchestra is a genre-bending musical collaboration featuring Vietnamese classical instrumentalist Van Anh Vo and rapper DEM ONE. Their music goes beyond the conventional boundaries of hip-hop and World music to create a unique sonic experience. In 2016, the Blood Moon Orchestra released a music video, "Moving Train," garnering critical acclaim for addressing climate change and globalization with an innovative, unconventional soundscape. In addition to recording and performing, the Blood Moon Orchestra facilitates workshops to teach Bay Area youth about the power of creative expression.
DEM ONE (Instagram/Twitter @lifeafterhiphop)
Known as San José's hip-hop ambassador, DEMONE CARTER (DEM ONE)'s delivery has been compared to Common and Black Thought of The Roots. He has opened for Quannum hero Lyrics Born, performed at the legendary Fillmore Auditorium, and spit countless guest verses on various projects and releases. Named "Mentor of the Year" in the South Bay for 2013, he founded a community organization, Future Arts Now, which does vital work with San José youth, and is an active voice-over artist for both the art and commercial worlds. Recently, DEM ONE was awarded Artist Laureates – On Stage category for his contribution to the communities through the art.
Mahsa Vahdat is a prominent performer of Persian vocal music and strong advocate of freedom of expression in music, a dedicated singer and musician in her musical path and artistic cause. Her career has given a deeper knowledge about Iranian poetry and music to large audiences in Europe, America, Asia, Oceania and Africa. Mahsa has developed her personal style based on the Persian vocal tradition of classical and regional folk music, but with a contemporary expression. She has always searched for ways to make her music relevant to the present world. Even if the origin of her styles is Iranian, she believes in her music's ability to express a universal message of humanism and freedom. Her collaboration with musicians from Iran and many other parts of the world has contributed to the development of her personal expression. Since 2007 Mahsa is one of the ambassadors of Freemuse Organization, an independent international organization that advocates freedom of expression for musicians and composers worldwide. In 2010, she was granted the Freemuse Award. She has developed a long and intense pedagogical experience in teaching classical Persian singing for years for Iranian and non-Iranian students and led many projects with her students as mentor.
Kai Eckhardt is an Afro-European musician who has made a significant contribution to the evolution of the electric bass since 1989. Heavily influenced by the emerging fusion of funk, rock and jazz in the late 70's, Kai developed a unique style on his instrument long before attending Berklee College of music in Boston – the renowned music college- from which he graduated with honors in 1987. Kai Eckhardt has performed at distinguished venues around the globe such as the Royal Festival Hall in London, the Philharmonic in Munich and the Esplanade in Singapore. Festival engagements include Montreal Jazz Festival, North Sea Jazz Festival in the Hague, Womad World Music Festival in Spain and Glastonbury in the U.K. Kai has performed for dignitaries on some occasions like the King and Queen of Norway. In the educational field, Kai teaches clinics and master classes internationally. Engagements include Berklee in Boston, the Musician's Institute in Hollywood, the Bruckner Conservatory in Austria and Amsterdam Conservatory in the Netherlands. Perhaps the most notably unique band in Kai's career was the pioneering jam-band Garaj Mahal, which he co-lead between 2000 and 2010, producing 9 albums and performing roughly 1000 concerts in the U.S and Canada.
TUNJI (Instagram @babatunji)
Babatunji Johnson (TUNJI) is a breakdancer born in Portland, Oregon and grew up on the Big Island of Hawaii. Though never formally trained as a child, Babatunji was always moving his body to the beat. At the age of 15, he discovered the art of hip hop. Following over a decade of self-taught street performance, he has developed a unique approach to various styles of hip hop such as breakdance, popping, and krump. While cultivating his own movement language, Babatunji simultaneously trained in ballet, modern, and contemporary, going on to work and perform around the world with Alonzo King LINES Ballet for six years among other inspiring companies. In 2015 Babatunji was awarded a Princess Grace Award, as well as a Chris Hellman Award for his outstanding achievements and promise in the world of dance.
An Emmy Award winner and a Grammy Award judge in the World Music Category (2014-2016, 2018, 2019), Ms. Vo is one of the finest performers of Vietnamese traditional instruments in the world and a rapidly emerging composer. She dedicates her life to creating music by blending the wonderfully unique sounds of Vietnamese instruments with other music genres, and fusing deeply rooted Vietnamese musical traditions with fresh new structures and compositions. Since settling in the San Francisco Bay Area in 2001, Ms. Vo has focused on collaborating with musicians across different music genres to create new works. Ms. Vo has also been collaborator and guest soloist with such artists as Yo-Yo Ma, Kronos Quartet, Oakland Symphony. In addition to touring internationally, she has presented her music at Carnegie Hall, Zellerbach Hall, Lincoln Center, Kennedy Center, and as a composer and guest artist for the Kronos Quartet at the Olympic Games 2012 Music Festival. For more information, please visit www.vananhvo.com
About the organizers and community partners:
VANGO Network's mission is to lead effective collaborations and strengthen the humanitarian, cultural, and development work by delivering capacity building workshops to underserved communities. With the full participation of community coalitions and partners to address health disparities, education inequalities, and social and economic injustices, collaboration is at the heart of what we do. VANGO Network believes that "Songs of Strength-S.O.S." provides a creative platform to elevate voices and stories of the immigrants, refugees, and oppressed groups to be heard locally and globally. For more info about VANGO, please visit https://www.va-ngo.org or follow on Facebook (@VANGONetwork)
The mission of PIVOT is to engage and empower Vietnamese Americans for a just and diverse America through civic engagement and leadership development, and to support policies and candidates aligned with our values. PIVOT aims to achieve our mission through working together with Vietnamese Americans of all ages and other communities to promote a common agenda that includes the promotion and support of human, civil, and refugee rights; increasing cultural, linguistic, and financial access to quality education, health care, and economic opportunities; and protecting the environment. For more information about PIVOT – The Progressive Vietnamese American Organization please visit https://pivotnetwork.org or follow PIVOT on Facebook and Instagram (@pivotorg)
DVAN believes that the stories, imaginaries, and poetics of a thriving Vietnamese diaspora can unite our global community. Our mission is to celebrate and foster diasporic Vietnamese voices. DVAN presents nonfiction, fiction, and poetry to empower Vietnamese artists in the diaspora and to promote understanding and dialogue within our community, and with others. Our complex and diverse stories must be championed and passed on to current and future generations. We are refugees, immigrants, survivors, and descendants, and our stories must be heard. For more information about the Diasporic Vietnamese Artists Network (DVAN) please visit our website at https://dvan.org or follow us on Instagram (@weare_dvan)
The Union of North American Vietnamese Student Associations is a 501(c)(3) non-profit, non-partisan community-based organization dedicated to cultivating the next generations of leaders who will serve as stewards of the Vietnamese community. For more information about UNAVSA – The Union of North American Vietnamese Student Associations please visit https://unavsa.org or follow UNAVSA on Facebook and Instagram (@unavsa)
This program is funded by the VANGO Network, MAP FUND, and Creative Work Fund, a Program of the Walter & Elise Haas Fund, supported by a generous grant from the William and Flora Hewlett Foundation.
Workshop 1: August 7, 2020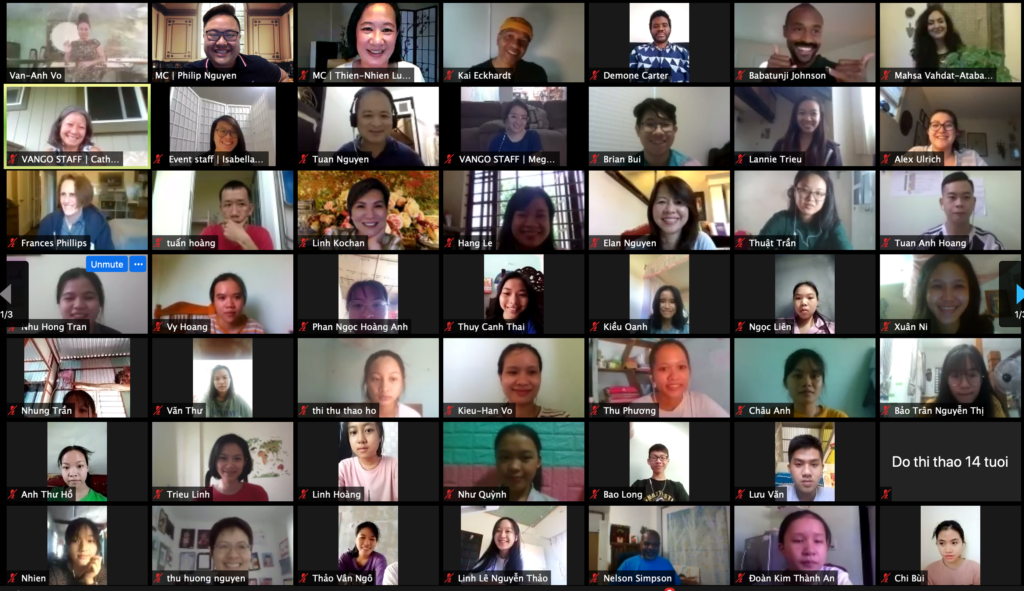 Hosted by Thien-Nhien Luong and Philip Nguyen, guests will engage in virtual conversations and discussions regarding their work, stories, and communities, with live Q&A sessions following each event.
Participation is FREE. Click "Find Tickets" to RSVP through Eventbrite for Zoom link.
Trong cuộc sống, mỗi người chúng ta luôn muốn tìm và xây dựng được sức mạnh về tinh thần và thể chất. Khi mỗi cá nhân chúng ta tìm được sức mạnh ấy, chúng ta có thể đi xa, đạt những ước mơ và thành công. Những sức mạnh tâm hồn này khi đứng cùng nhau, chúng ta sẽ tạo nên một cộng đồng mạnh mẽ nơi con người trở nên yêu thương nhau hơn, hiểu nhau hơn, giúp đỡ lẫn nhau và sống trong một cuộc sống tốt đẹp hơn. "Songs of Strength" đến với Vân-Ánh từ những suy nghĩ này. Hãy tìm sức mạnh của tâm hồn, đừng chùn bước vì mình đến từ một mảnh đất không được trù phú hay chỉ vì xã hội chưa tạo điều kiện cho nữ giới. Nếu những bậc đi trước như nữ thi sĩ Hồ Xuân Hương, Bà Trưng, bà Triệu đều đã tìm được sức mạnh này thì Vân-Ánh tin rằng chúng ta, đi cùng nhau, sẽ tìm được những viên ngọc quí báu trong cuộc đời này.
BIO: Võ Vân-Ánh (Vanessa) đã dành niềm đam mê sâu sắc cho cây đàn Tranh và các cây nhạc cụ dân tộc từ khi lên 4 tuổi. Ước mơ của cô là tạo ra âm nhạc mang đậm mầu sắc và bản chất của văn hoá Việt Nam nhưng lại chứa đựng nhịp đập của thế kỷ XXI này. Từ khi sinh sống tại Mỹ, cô đã là người nghệ sĩ nhạc dân tộc Việt Nam đầu tiên đã đem được nhạc dân tộc vào dòng âm nhạc chính thống Mỹ. Vân Ánh bắt đầu có thương hiệu quốc tế từ khi sáng tác và chơi nhạc cho bộ phim đoạt giải đặc biệt tại LHP Sundance 2002 và đề cử Oscar 2003: Người con gái Đà Nẵng- bộ phim nửa truyện nửa tài liệu kể về hoàn cảnh éo le của người mẹ Việt và đứa con lai. Cô cũng đã đạt được giải Emmy ® Award 2009 cho nhạc nền của bộ phim tài liệu "Bolinao 52", trong đó cô đồng sáng tác và thu âm. Vân-Ánh cũng đồng sáng tác và thu âm cho bộ phim tài liệu gần đây "A Village Called Versailles", người chiến thắng của giải thưởng Khán giả Liên hoan phim New Orleans, Mỹ.
Đến từ một gia đình nhạc sĩ và bắt đầu học đàn tranh từ bốn tuổi, Vân-Ánh tốt nghiệp xuất sắc từ Học viện m nhạc Việt Nam. Năm 1995, Vân-Ánh đạt Giải Nhất quốc gia trong cuộc thi Tranh Đàn Quốc gia Việt Nam lần II-1995 tại Sài Gòn, cùng với các giải thưởng Đặc Biệt cho màn trình diễn solo hay nhất của âm nhạc dân gian hiện đại. Tại Hà Nội, Vân-Ánh là một thành viên chính của Nhà hát m nhạc Quốc gia Việt Nam cũng như một thành viên của nhóm nhạc truyền thống Đồng Nội Ensemble, mà cô thành lập và chỉ đạo. Cô đã lưu diễn trên 25 quốc gia và tham gia trong nhiều chương trình truyền hình trong và ngoài Việt Nam.
Ngoài việc trình diễn tại các nước khác nhau trên thế giới, Vân-Ánh đã viết nhạc và trình bày âm nhạc của cô tại các trung tâm nghệ thuật lớn nhất của nước Mỹ như Carnegie Hall, Zellerbach Hall, Lincoln Center, Trung tâm Kennedy, và là nhà soạn nhạc và nghệ sĩ biểu diễn cho tứ tấu đàn dây nổi tiếng nhất nước Mỹ, Kronos Quartet, tại Liên hoan m nhạc của Thế vận hội Olympic 2012 tại London. Vân-Ánh tự hào là nghệ sĩ nhạc cụ dân tộc đầu tiên gốc Việt trình diễn tại toà Bạch Ốc – The White House – dưới tổng thống Obama năm 2016. Năm 2002, Vân-Ánh phát hành CD đầu tiên của cô, "Mười Hai Tháng, Bốn Mùa – Twelve Months, Four Seasons"; và trong năm 2009, cô đã kết hợp với nhà soạn nhạc từng đoạt giải thưởng lớn Đỗ Bảo để cho ra đĩa nhạc "Cô Ấy Không Còn Là Cô Ấy Hôm Qua – She's Not She". Đĩa CD thứ ba 'Three-Mountain Pass – Đèo Ba Đội" của Vân-Ánh đã được bình chọn vào Top 10 CDs hay nhất năm 2013 của kênh radio quốc gia Mỹ National Public Radio.
Bên cạnh cây đàn ,Tranh Vân-Ánh cũng là nghệ sĩ độc tấu trên cây đàn Bầu, đàn T'rung, đàn K'longput, bộ gõ dân tộc, và hát. Cô sống và dạy đàn Tranh và nhạc cụ truyền thống Việt Nam khác tại Fremont, California. Để biết thêm thông tin liên quan đến đàn Tranh, âm nhạc truyền thống Việt Nam, hoặc đĩa CD trong tương lai, vui lòng truy cập trang web: www.vananhvo.com hoặc email: dantranhviet@vananhvo.com
Workshop 2: October 2, 2020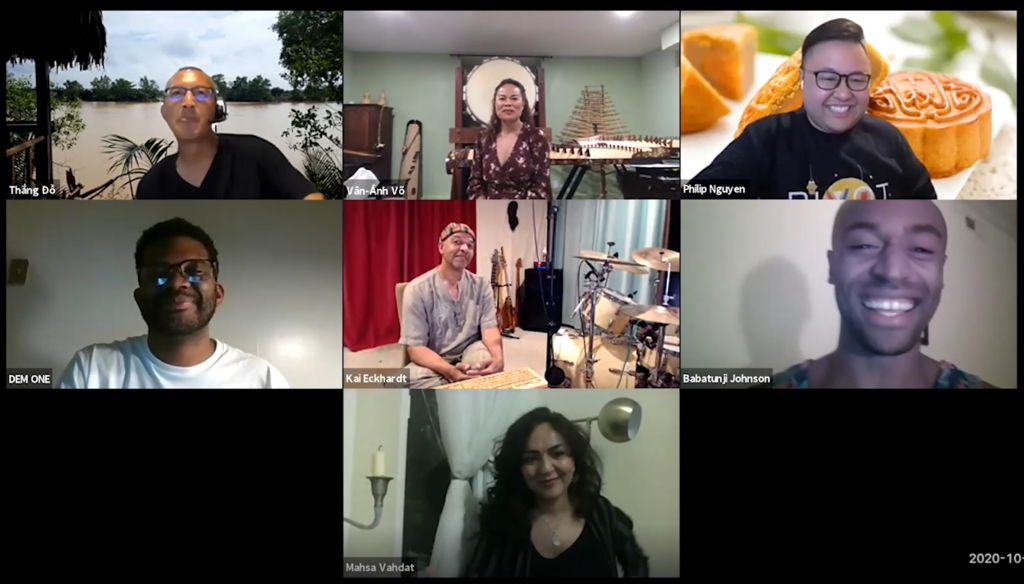 Hosted by Thang Do and Philip Nguyen, guests will engage in virtual conversations and discussions regarding their work, stories, and communities, with live Q&A sessions following each event.
This second workshop features guest artists and musicians in a discussion about their experiences and perspectives as, not only immigrants and refugees but, immigrant and refugee artists in today's political and social climate and how they use their art to engage in social activism and advocacy. This workshop will feature Vietnamese traditional instruments, western instruments, voices, rap/spoken word poetry, and breakdance.
Participation is FREE, with a suggested donation of $5. Register via eventbrite at https://bit.ly/songsofstrength-sos
About Thang Do: I am an architect and an entrepreneur. For nearly 30 years, I have led Aedis Architects, a San Jose-based architectural firm that specializes in the design of educational institutions. More recently, I founded SoFA Market, an urban food hall in San Jose's emerging SoFA Art District, as well as The Fountainhead Bar, an architecture theme bar located within. I have been active in the efforts to revitalize downtown San Jose, as evidenced through my services as Chair of the San Jose Planning Commission, board member of SPUR, the San Jose Museum of Art, and the Housing Trust of Silicon Valley and member of San Jose Architectural Review Committee. As a committed urbanist and environmentalist, my architectural work embraces sustainable design practices, such as Aedis Architects' office, a LEED Platinum-certified corporate headquarter. Community activism has played a significant part in professional work, ranging from advocating and advising on urban design issues and influencing planning practices to policymakers. Recognizing my contributions to society and the architectural profession, the American Institute of Architects elevated me in 2017 to the AIA College of Fellows, a distinction bestowed on fewer than four percent of AIA architects. I am a native Vietnamese speaker and fluent in both Vietnamese and English. I am conversational in Italian and French, with a limited ability in Spanish and Mandarin Chinese. I live in Saratoga, California, with my wife and four children, in a historic home that I restored and transformed.