Summary of Tropical Storms Noul (September) and Nangka (October)
Our staff and volunteers are sending us updates about the tropical storms that have devastated Thừa Thiên-Huế over the past four weeks. With heavy rains, high speed winds, flooding, and landslides, these tropical storms have torn apart much agricultural lands, buildings, roads, and infrastructure.
In mid-September, Tropical Storm Noul hit Central Vietnam with extremely heavy rains and high wind speeds. There was loss of life both during the storm and after the storm had weakened as people tried to repair their broken, and the damages to buildings, agriculture, and infrastructure are tremendous (see below for details). Noul downgraded to a tropical depression, but ongoing rains led to flooding and infrastructure issues and further damage all over the Thừa Thiên-Huế and neighboring provinces.
Before anyone had time to recover, another Tropical Storm Nangka arrived with even higher wind speeds, compounding the problems from Noul. On top of the damage from this storm (i.e., roofs blowing off, cell towers losing electricity, etc.), the water levels rose to a record high and stayed, leaving many trapped inside their flooded homes.
We are still collecting data, but here is what we know as of 10/14 (we are updating as we receive information from our local staff):
People:
10 confirmed deaths
100 injured, requiring medical care
17 missing/unaccounted for (*need more details)
Homes:
21,283 damaged roofs
84,962 flooded homes
Schools:
20 damaged schools (*not all accounted for)
Agriculture:
1,222 ha of crops
1,130 ha of forest
1,504 ha of fish/seafood farming
864 ha of rubber trees
Infrastructure:
Countless roads/highways destroyed
43 fiber optic cables broken
721 cell phone towers without electricity
257 power cables broken
198 utility/electric poles broken or damaged
3 transformers broken
With over 21.8 million USD estimated damages, in addition to lives lost and damaged homes, tens of thousands of people are now faced with little to no access to electricity, food, clean water, medical care, and shelter, while the water still has not receded. The only way to get around is by boat, and as the storm is still going, it isn't a safe option.
VANGO Network is working with our local staff and partners to immediately respond to this disaster. This destruction is all over Thừa Thiên-Huế and its neighboring provinces, but we'll be focusing our efforts on our HIPE families first. We've been working in this area since 2010, and it's breaking our hearts to see the youth and families that we've grown to love as our own this way, especially because we're all stuck on the other side of the world.
Many of their homes and property have sustained damage, yes. But right now, they need food, water, and sanitation.
Please join us to support these families through this time.
From our staff & volunteers
Delivering relief kits:
This video was taken from the front steps of Như Hồng's house. Như Hồng has been full-time staff for almost a year now and before that was a PHE from the very first cohort of HIPE. In many ways, her family is lucky because their house is still in tact. But all that water…should not be there.
In the news
At least 36 people have died in flooding in Vietnam, as Tropical Storm Nangka makes landfall. The coast has been hit by a series of weather fronts in recent days, and more rain is expected. Al Jazeera's Andrew Chappelle reports.
Al Jazeera YouTube
Oct 14, 2020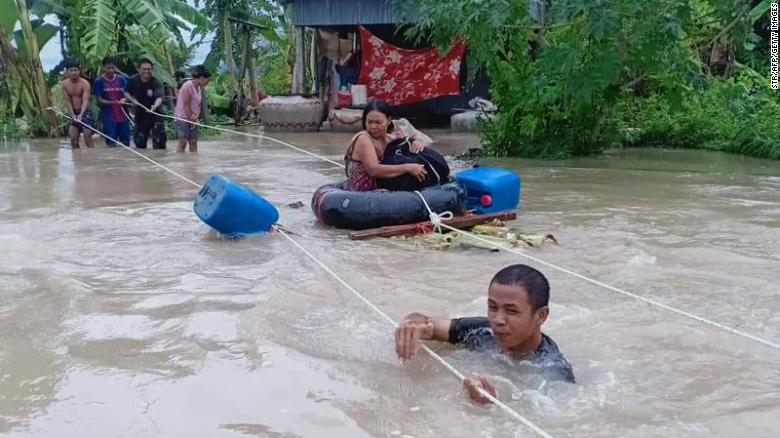 Nearly 40 people have died in Vietnam and Cambodia and scores more were missing, including rescuers, due to prolonged heavy rain and flash flooding as tropical storm Nangka edged towards the Vietnamese coast on Tuesday.
CNN
Oct 13, 2020
Most of the 23 victims were washed away by floodwaters as nearly 46,000 people have been evacuated from affected areas.
Al Jazeera
Oct 12, 2020
Authorities evacuate more than one million people across three central provinces, shut down all airports in the region.
Al Jazeera
Sept 18, 2020
Surveillance footage showed the moment a utility pole fell on a passing motorcyclist amid tropical storm Noul in Vietnam, Friday, September 18, before the motorcyclist got up and ran to safety.
VOA News YouTube
Sept 18, 2020
Tropical storm Noul made landfall Friday in central Vietnam, killing at least one person and triggering heavy rain in the central parts of the country.
VOA News
Sept 18, 2020